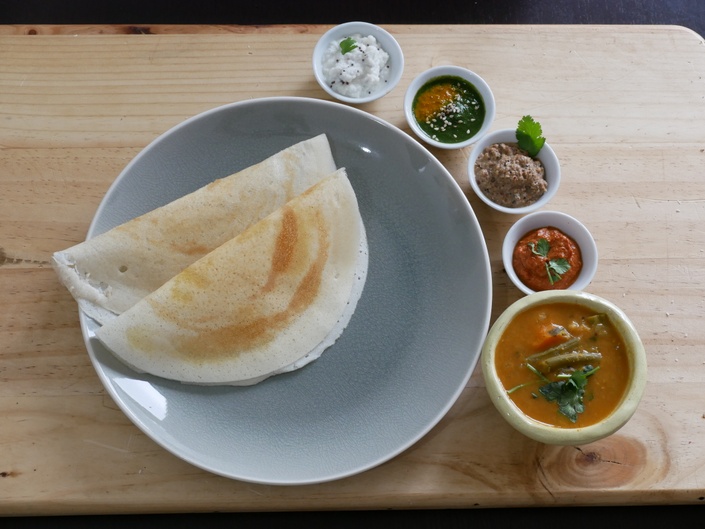 Idli Dosa Masterclass
Learn how to easily make idli and dosa at home, following the healthy traditional method
Watch Promo
Idli and Dosa are the most famous traditional foods of South India. Making them at home from scratch is very easy, even though they have a reputation of a complicated dish.
After completing this Masterclass you'll be able to make your own idli dosa batter from scratch, in any country and without any special equipment. You'll make crispy dosa with little oil, soft fluffy idlis without soda, as well as delicious chutneys and dals that go along with it.
What is Dosa and Idli?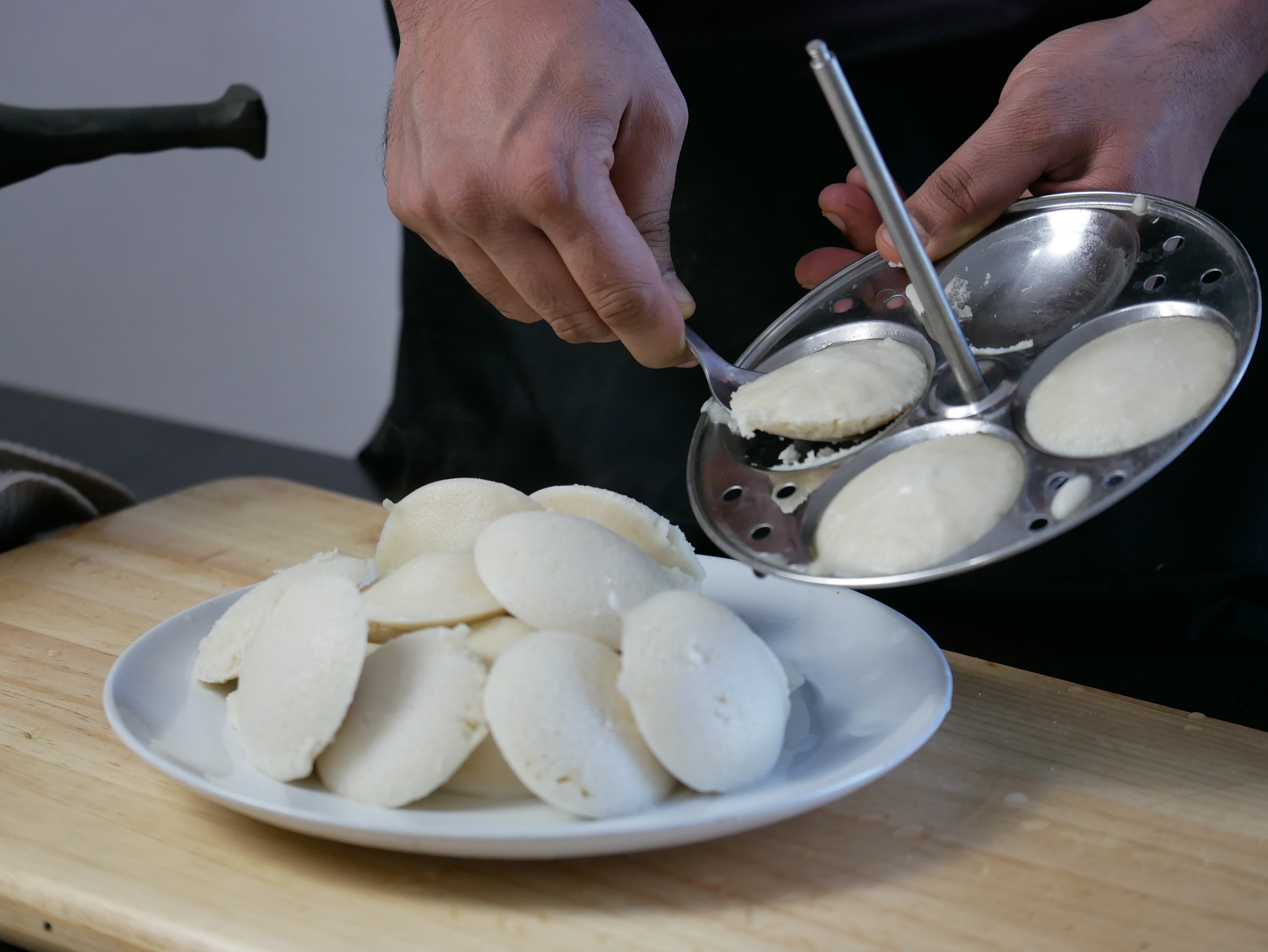 Idli and dosa are a traditional breakfast served in the South of India and Sri Lanka. Idlis are steamed savory cakes, made from fermented rice and lentil batter. Dosa is a savoury "crepe", made from fermented rice and lentil. It can be made thin and crispy, or soft and slightly fluffy.
Both idli and dosa are made from the same batter, even though they are completely different in texture and flavour. Traditionally, they are served with different chutneys, pickles and sambhar (a spiced lentil soup).
Are Dosa and Idli Healthy?
If made right, idli and dosa are one of the healthiest meals you can imagine. The batter is made through the fermentation process that breaks down the antinutrients, makes grains and legumes highly digestable and the nutrients bioavailable for our bodies. In other words, it makes it possible and very easy for us to absorb all the nutrients that are hiding inside the ingredients. Delicious chutneys and dals that are usually served along make idli and dosa into a complete and delicious meal, easing the digestion further with the help of the spices.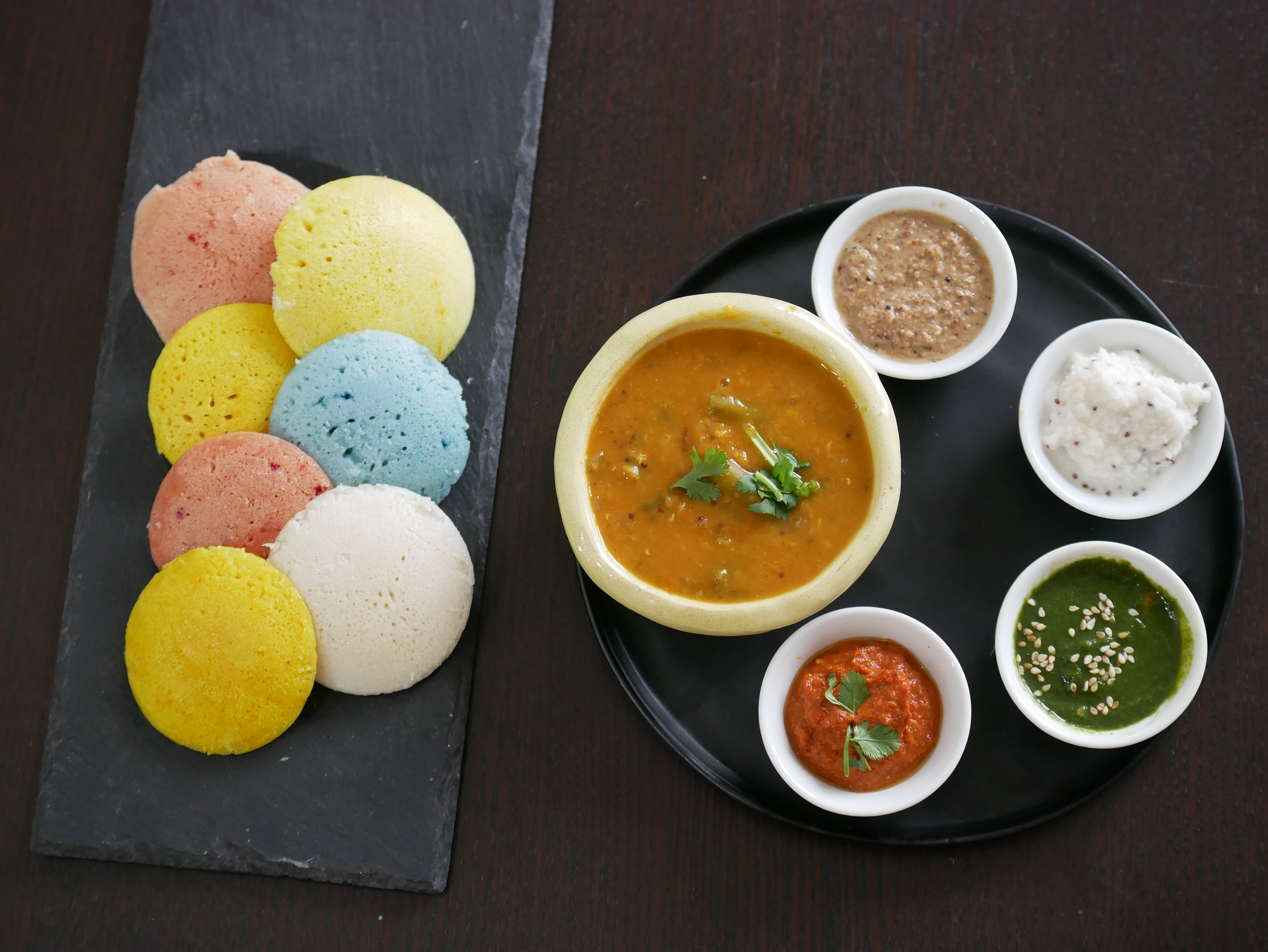 What you will learn in this Masterclass:
> How to make idli dosa batter from scratch
> Ways to achieve the perfect delicious fermented batter even in a cold climate
> How to make perfectly soft anf fluffy ildi without adding baking soda
> How to make a perfectly crispy thin dosa
> How to make masala dosa (a dosa with a spicy potato filling)
> Making idli with different types of rice (white, basmati, red, brown etc.), and with different types of lentils
> Flavouring and coloring ildis, using nutritious natural ingredients (the best thing you can do for picky eaters!)
> How to make Uttapam (thick dosa topped with vegetables)
> Recipes for delicious chutneys from peanuts, lentils, tomatoes and herbs, for extra flavour and nutrition
> Making classic sambhar from scratch (sambhar is a spiced lentil and vegetable soup, that's traditionally served with the idli and dosa and creates a complete meal)
> Which equipment to use for the best result, and what to do if you don't have aby equipment alltogether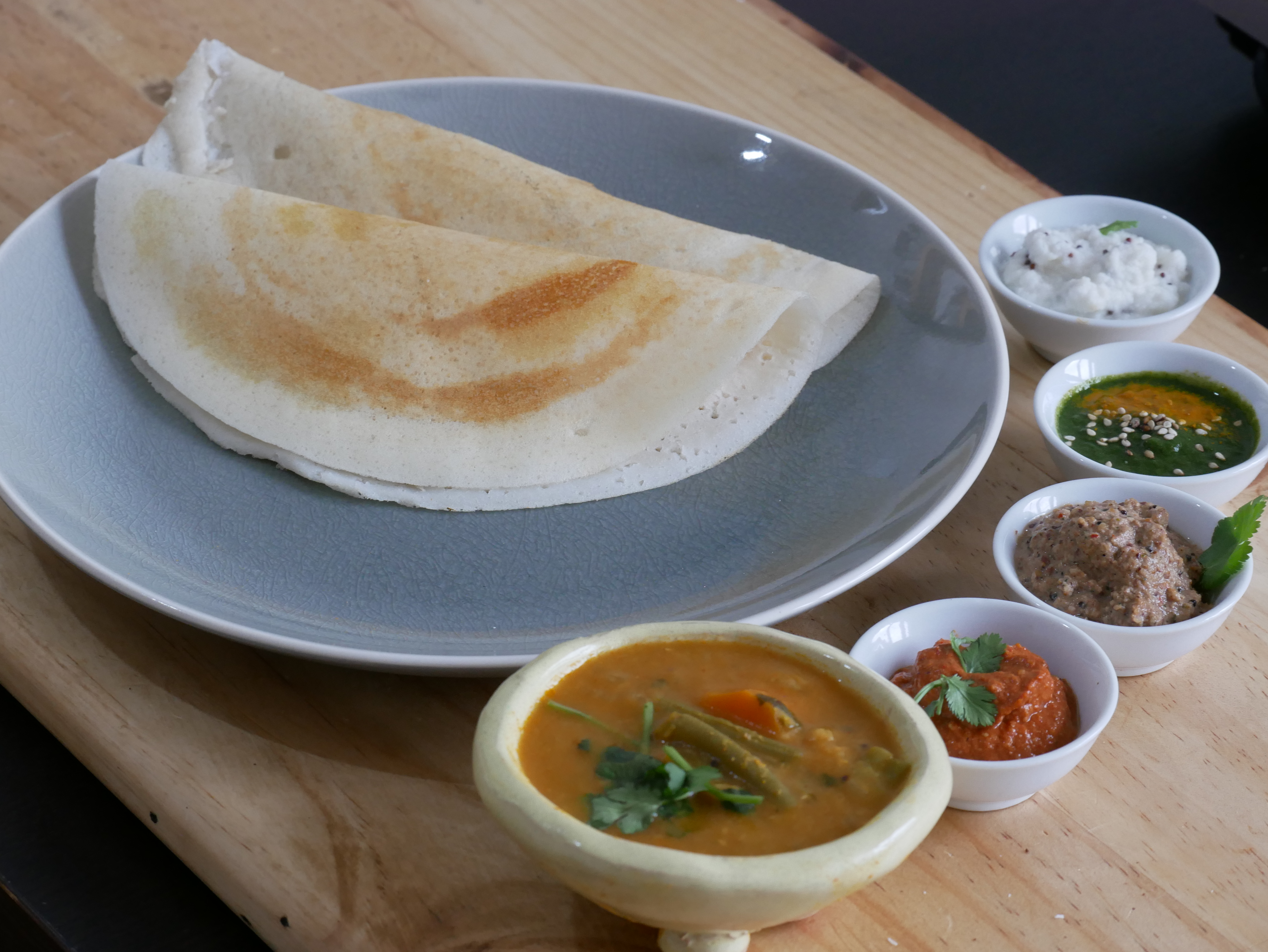 Why learning how to make Dosa and Idli at home?
> Idli and dosa are a perfect, super nutriritious "Instant" meal
After the batter is prepared it can be stored in a fridge for a couple of days. Using different flavours and textures (idli and dosa taste and look completely different, even though they are made form the same batter), you'll have a few readymade dishes at your disposal. It's a great option for those who have little time, but want to treat themselves and their families with wholesome, filling and nutritious meals.

> You'll know for sure which ingredients and cooking methods were used, and it's utterly important if you care for your health
Idli and dosa are perfectly healthy foods when they are prepared following the traditional method. Unfortunately, many restaurants and shops use cooking methods that turn an otherwise healthy dish into another type of fastfood that can be harmful to our health. Mainly, it has to do with the type of unhealthy oils used in excessive amounts, addition of unnatural baking soda and other ingredients, that afffect the texture and shorten the turnaround time.
> You can make it whenever you crave it!

Not all of us are lucky to live next to an idli dosa shop, where we can get a fresh hot meal whenever we crave it. Learning making dosa and idli at home is the easiest way to satisfy our cravings whenever we have them, without awaiting our next trip to India for months.
Your Instructor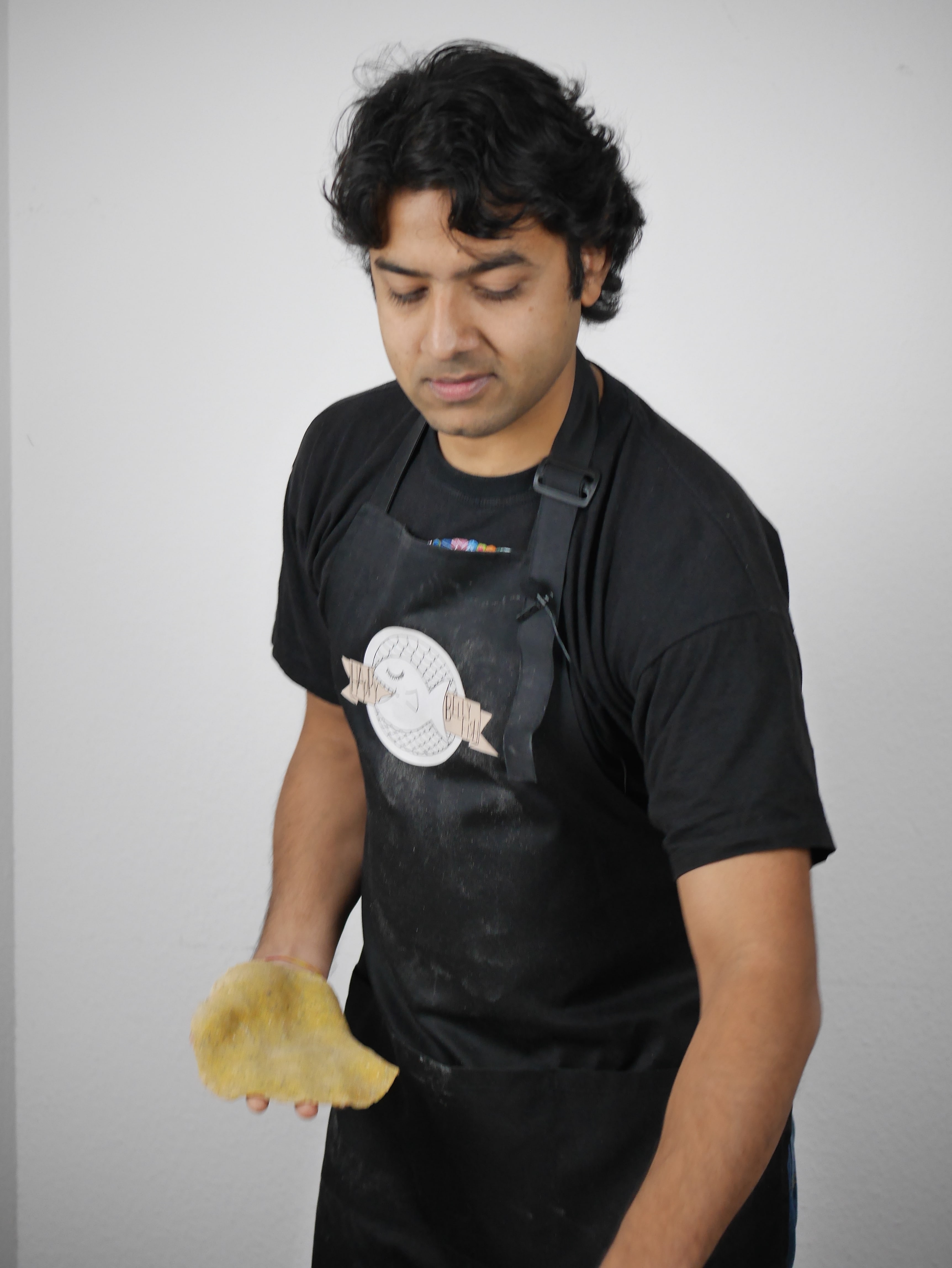 By the time Srikant turned 15 he had traveled throughout kitchens in entire South and East of India, assisting his mother with cooking, while she was learning local cuisines. Since then he moved all around the world, always keeping two items in his suitcase: his pressure cooker and a spice box. Srikant ran a successful Supper Club in Berlin, where he transformed local ingredients with Indian spices and now he is teaching the art of Indian cuisine and spices in Germany and in Russia. Srikant only follows traditional healthy practices in his cooking, largely based on Ayurvedic principles.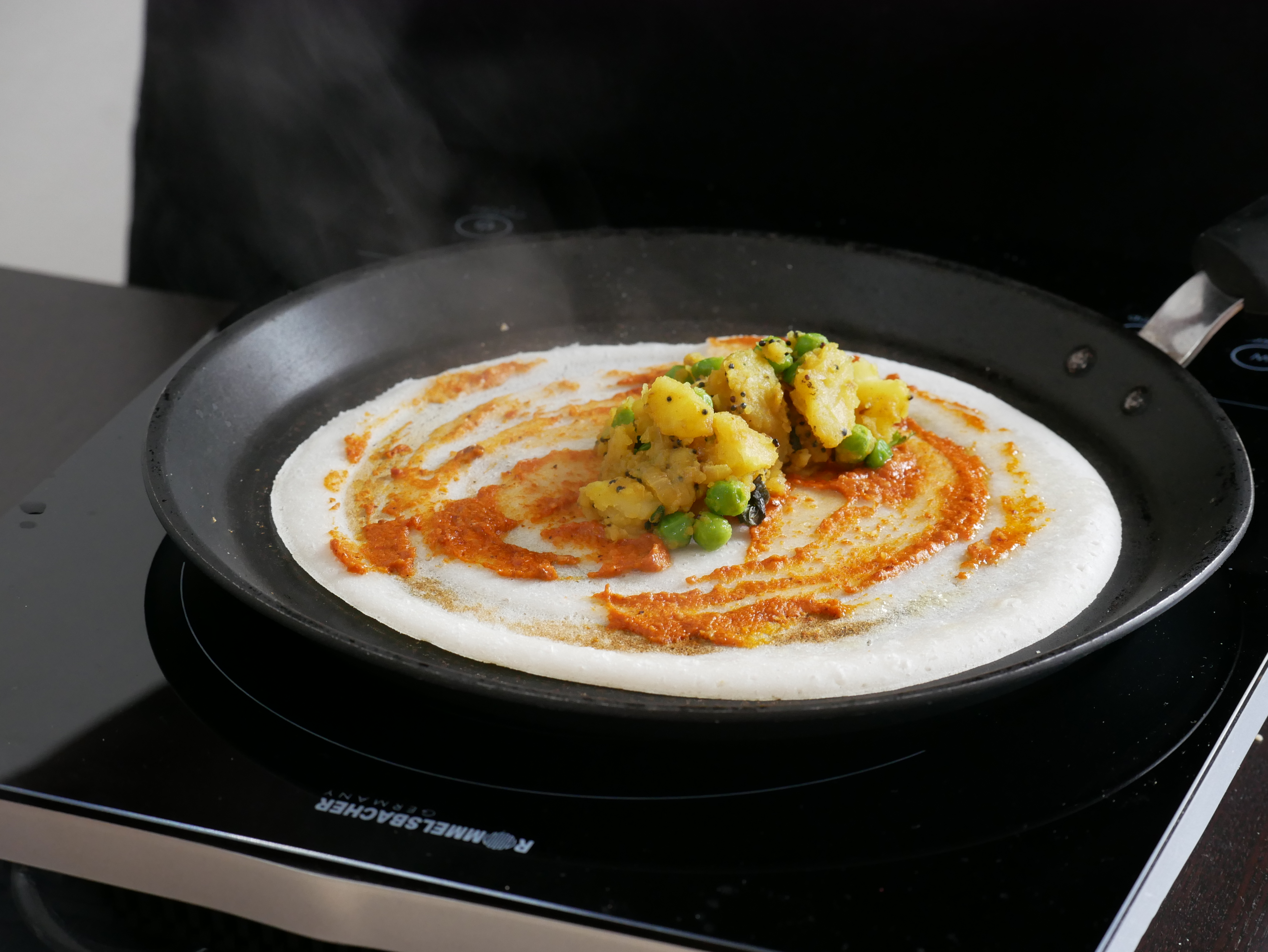 How difficult is it to make Idli and Dosa and what you will need for this Masterclass?
Making Idli and dosa batter is very easy, and basically just involves processing ingredients into a batter and leaving them to ferment. The cooking time for idli is under 10 minutes, and jsut a few minutes for a dosa.
You can make idli and dosa at home with a minimum equipment. What you'll need ot make it work is:
(1) a simple blender
(2) a flat pan for dosa
(3) a large pot and pastry molds or an idli stand for idlis
As a part of the Masterclass, you'll learn about all types of equipment or hacks you can use, and how it will affect the outcome. It's really miuch easier than it seems, as long as you have the right skills.
Frequently Asked Questions
How long will I have acces to the course materials?
You'll receive lifetime access to the course materials and all the updates introduced within the next 12 months.
Can I get this course as a gift?
Of course, you can buy our course as a gift. In fact 20% of our students receive it as a gift from their friends or family, and we always receive wonderful reviews and engagement form them!
Will I be able to ask questions?
Yes, after enrolling you receive the full support from the teaching instructors for the coming 12 months. You can as all you wnat, and we usually reply to all questions within 24-48 hours.
Do I need any prior knowledge?
This course is perfect for absolute beginners as well as those who already have a basic idea of how to make idli and dosa at home, but would like to wotk more on these skills and get new ideas.